Just a quick giveaway news the ones that will end by the year end (it's almost 2011!!) :
1.
Suburban Beauty giveaway
Lola B
of
Suburban Beauty
is having a NYE giveaway. :) It consists of some pretty awesome stuff. Click the picture to go to the giveaway which by the way ends
December 31st
.
2.
Beauty by Kayla Shevonne giveaway
It's her 200 follower giveaway,
Beauty by Kayla Shevonne
(yay congrats!) is giving out not one, not two, but three
(3)
lucky winners some pretty awesome prizes. :) Giveaway ends
December 31st
.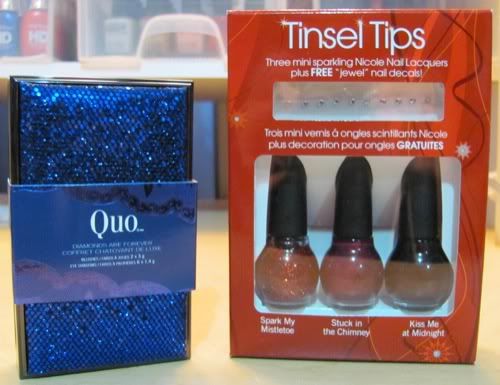 3.
Beauty Craze giveaway
Over $500 worth of make up, for real? Yes,
Lisamarie and Christelle
from
Beauty Crazed
is having this big giveaway. This also ends
December 31st
. Isn't it intriguing?
4.
Pink Dolly giveaway
It is
LUSH
:D Get it? :P
Pink Dolly
is having a Lush giveaway :) along with other delicious stuff. I have never tried any Lush stuff but everyone is raving about it. This would be a really cool thing to try.
Click click
And I am loving Simple products. Ends
December 31st (UK GMT 12 noon)
.
5.
Pammy Blogs Beauty giveaway
Pammy from Pammy Blogs Beauty is having her first 100 followers giveaway :D Congrats!! Here are some of the prizes:
There's Stila and NYX and a bunch of other goodies. :D Giveaway ends
December 31st.
:) See, end of the year madness!!